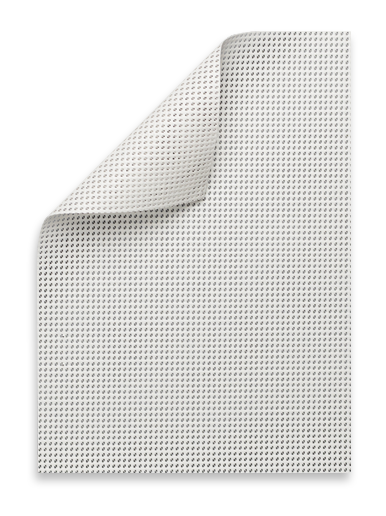 Duratex 8oz Standard Mesh
Duratex Standard Mesh banner is a lightweight mesh for windy areas. The mesh weave minimizes wind resistance and allows air to pass through the material.
Buy Now at Grimco:
Proud to offer a variety of sizes. To order material over 72 inches, please call 800.542.9941.
Download Product Sheets:
Duratex 8oz Standard Mesh Data Sheet
Duratex 8oz Standard Mesh Technical Data Sheet
Features + Benefits
Uniform Pattern
Tough Tear Resistant Base
Excellent Wind Flow
Can be Grommeted or Sewed for Rotating Light Box Application
Applications
In-Store Signage
Building Wraps
Outdoor Signage and Displays
Product Information
| Size | |
| --- | --- |
| 98" x 164' | 196" x 164' |
| 126" x 164' | 196" x 330' |
| 126" x 330' | |
Physical Properties
Caliper:
17 mil
Weight:
8oz/sq yd
Flame Resistance:
NFPA-701
Denier:
1000 x 1000
Air Floating Rate:
70/30
Weave:
12x12
Installing
This product can be grommeted for banner applications. Metal grommets should be inserted to penetrate 2-4 layers of materials for increased strength and durability.
Trimming
It is recommended that when trimming this material to allow about 0.125-0.25" of white/unprinted border. It is not recommended to "bleed trim" this material.
Storage & Handling
Material should be handled with white fabric gloves to prevent finger markings. After printing, unused material should be stored upright or suspended in its original packaging. Limited one year warranty when stored at 70°F, 50% relative humidity and out of direct sunlight in its original packaging.
Printer Compatibility
Compatible with most solvent, eco-solvent, latex and UV curable inkjet printers using mesh kits.